DJI Ronin Grip Feet Option
We all know that good camera gear is expensive. What tends to happen is that we buy a big piece of equipment expecting to spend one price, but your end price skyrockets once we add on all of the accessories. This happens to me all the time, which leads me to look for ways to save money while still using high-quality equipment.  
I've been using the DJI Ronin for a few months flying my Canon C100 Mark II, but after a few hours, the rig gets heavy. With the standard Ronin set-up, your only option is to haul the stand around with you if you want to give your arms a break. This is where the accessory price starts to add up. I decided to purchase the DJI Ronin Grip/Ring so I could put the gimbal down without hauling the stand around. This option worked great but I quickly realized that you can't prop up the ring, you must always keep a hand on it so it doesn't fall over. This lead me to look into feet for the Ronin Grip. Every option I found from companies like Smallrig and CineMilled resulted in the price costing between $90 and $100. I found this pretty unreasonable for such a small add-on feature. Add this on top of the cost of the Ronin, the grip, Israeli arm, monitor, cables, Ronin arm extensions, etc and I start looking for more cost-effective options. I knew the Movi Pro Ring came with feet and by doing a quick search on B&H, I found Movi Ring replacement feet for $25. That's a price I can get behind.
Once I received the feet, I immediately saw that the Movi Feet had the same circumference as the Ronin Grip when placed around the rubber grip protectors found at the bottom of the Grip. The Movi Feet had a locking keyway that needed to be sanded off, so I got out the Dremel tool and quickly sanded them off.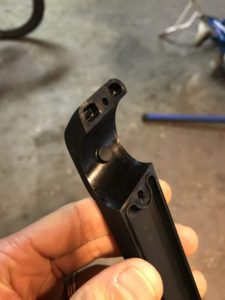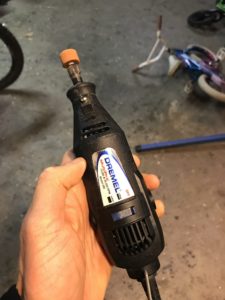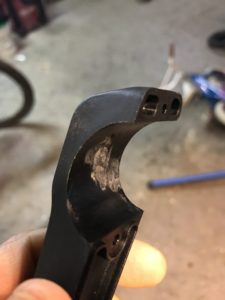 Yep, the Ronin Grip with Movi Feet work great!
With the keyway sanded off, the Movi Feet will perfectly with your DJI Grip. Just make sure you mount them on the rubber protector rings on the bottom of the Grip. This will keep the feet from slipping once weight is applied.